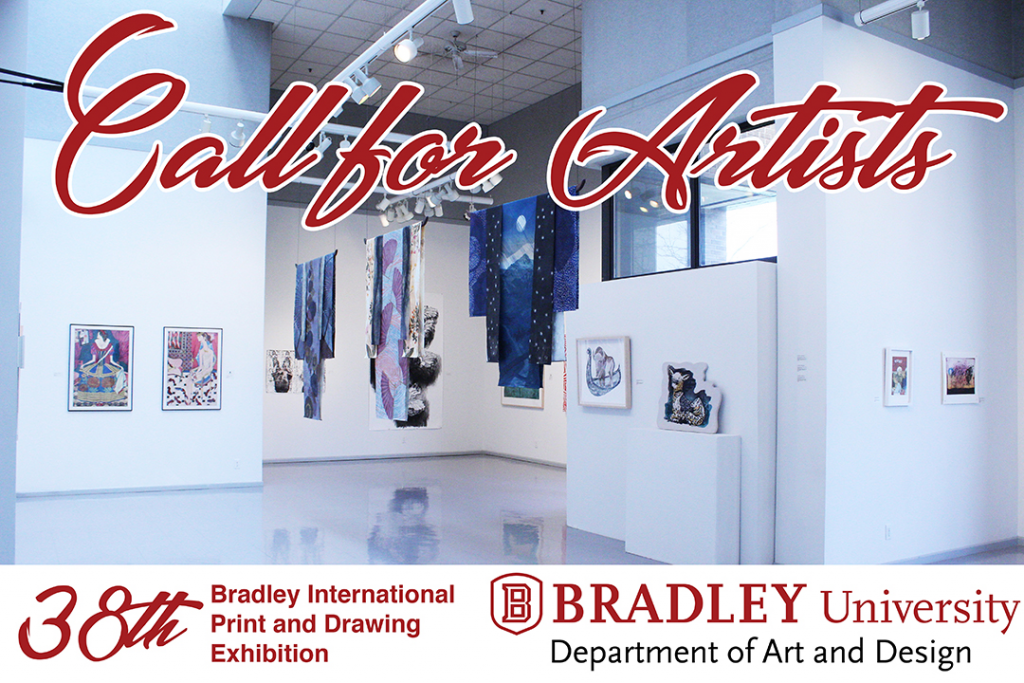 The Bradley International Print and Drawing Exhibition is the second-longest running juried print and drawing competition in the country. Every two years, it features the best contemporary graphic artwork from around the globe. This year's exhibition will be held on campus at Bradley University at Heuser Art Gallery and Hartmann Center Gallery, as well as The Peoria Riverfront Museum and The Peoria Art Guild.
Deadline for Entry: August 15, 2022
Notification of Jury Results: October 15, 2022
Deadline for Receipt of Art Work: November 15, 2022
Exhibition Dates: February 3, 2023 – March 31, 2023
Click here to submit your work (sign up and login required)
Click here to make required payment for each piece submitted
The juror for the 38th Bradley International will be Tyanna J. Buie. A Chicago, IL and Milwaukee, WI native, Tyanna Buie is a visual artist who received her BA from Western Illinois University, and her MFA from the University of Wisconsin-Madison.
Buie received an emerging artist Mary L. Nohl Fellowship in 2012, the Love of Humanity Award from the Greater Milwaukee Foundation and the prestigious Joan Mitchell Painters & Sculptors Grant in 2015, the 2019 Kresge Artist Fellowship in the Visual Arts, the 2019/2020 Grant Wood Fellowship in Printmaking at the University of Iowa in Iowa City, IA, and the 2020 Fellowship.art award, a top accelerator award/program funded through gener8tor.
Buie's extensive exhibition record includes: The Contemporary Invitational Print and Drawing exhibition at the University of Hawaii at Hilo, The Haggerty Museum of Art, The Racine Art Museum, The Red Bull House of Art, N-NAMDI Center for Contemporary Art, the Urban Institute for Contemporary Arts, The Milwaukee Art Museum, The Madison Museum of Contemporary Art, The Museum of Contemporary Art Detroit, the Wriston Art Center, the Museum of Wisconsin Art, and the Alice Wilds.
Her work has been acquired by major institutions and private collections nationally and her work has been reviewed on Hyperallergic.com and New American Paintings No. 155. Currently, Buie is an Assistant Professor/Section Chair of Printmaking at the College for Creative Studies in Detroit, MI.
Media:
Open to all traditional and non-traditional graphic media, including all forms of printmaking, drawing, and book arts.
Entry Fees:
The entry fee is $20 per piece entered, non-refundable. Entry fees must be paid online via the link above. Detail images may be included at no additional cost but should only be provided when necessary to reveal accurate understanding of the artwork. Entries submitted without payment will not be considered.
Awards:
Cash awards will be selected by the Juror. Purchase awards will be made by the University.
Please see the entry and payment links above for complete instructions and information.
For questions about the exhibition and application, contact Coordinator of Bradley University Exhibitions, Gallery, and Collections, Cyle ('Kyle') Metzger.
For payment questions, contact Bonnie Davis in the Bradley University Office of Continuing Education.