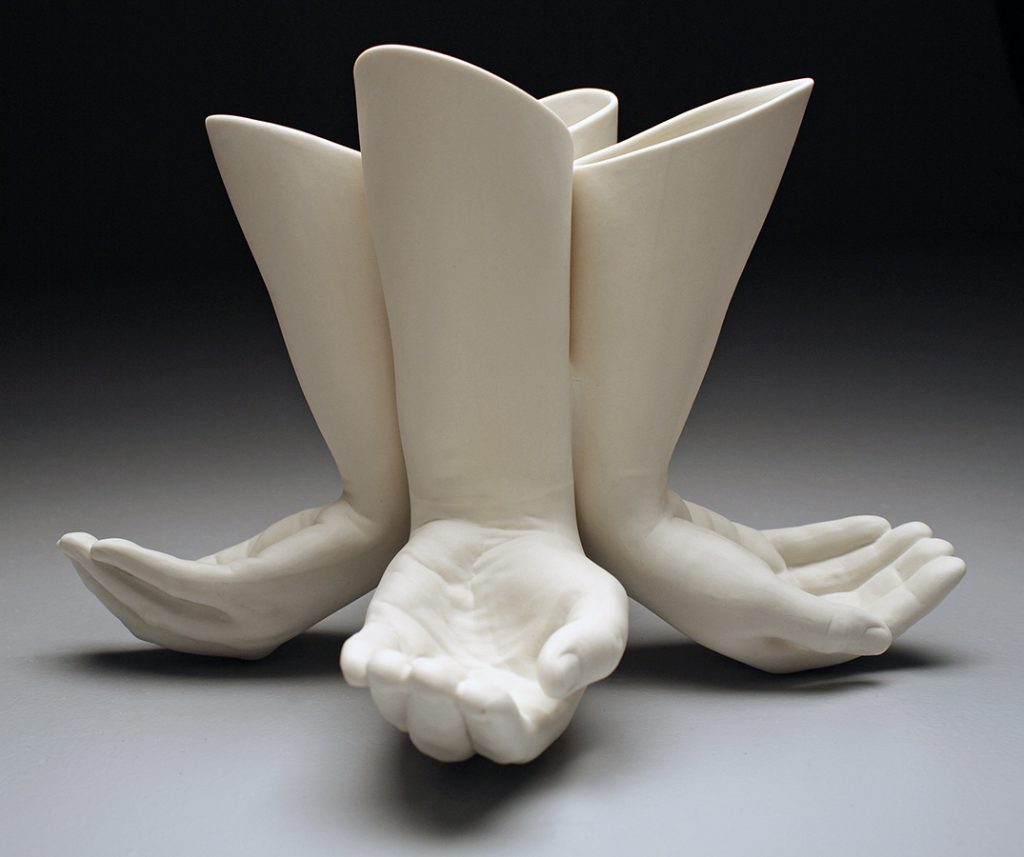 7th Central Time Ceramics
Heuser Art Gallery, Hartmann Center Gallery
Canceled until further notice
This exhibition is the seventh installment of the biennial juried exhibition of ceramic artwork, Central Time Ceramics. The show brings together ceramic artwork from across the Central Time Zone to a city not only centrally located but also commonly associated with the central United States: Peoria, Illinois. Assembled in Peoria at the Bradley University Galleries are 51 ceramic works by 36 artists living and working in the Central Time Zone. From Minnesota to Texas, the locales represented are as varied as each artist's aesthetic, yet the level of craftsmanship and innovation remains high throughout.
"Central" often refers to being in the middle, inferring sameness or mediocrity, yet the multiplicity of styles, methods and materials in this exhibition is anything but. This year's juror is Doug Jeppesen. Jeppesen holds a BA in Art History and a BFA in Art with an emphasis in ceramics from the University of Tulsa, and a MFA from Northern Illinois University. Doug holds the title of Associate Professor of Art/Ceramics at Waubonsee Community College in Sugar Grove, Illinois where he has taught full time since 1998.
Jeppesen has superbly selected a diverse group of work full of color, technical expertise, and experimentation. This exhibition may be centrally located yet it depicts the Central Time Zone as a multifarious region including diverse perspectives on the materials, methods, and styles of contemporary ceramic art.
The 7th Central Time Ceramics Artists:
Troy Aiken – South Bend, IN
Kenneth Baskin – Lake Charles, LA
Chris Berti – Urbana, IL
Jill Birschbach – Evanston, IL
Shannon Blakey – Columbia, MO
Tracy Burton – Chicago, IL
Grace Chien – Peoria, IL
G. E. Colpitts – Belvidere, IL
Angela Dieffenbach – Chicago, IL
Keith Ekstam – Springfield, MO
Paul Eshelman – Elizabeth, IL
Teresa Frisch – Bethalto, IL
John Gargano – Lafayette, LA
Mike Gesiakowski – Saint Louis, MO
Jennifer Holt – Decatur, IL
Meg Howton – Carbondale, IL
Kevin Kao – Saint Louis, MO
Patty Kochaver – Skokie, IL
Chris Leonard – McAllen, TX
Sean Lofton – Columbia, MO
Ronny Loyd – League City, TX
Antonio Martinez – Lawrence, KS
Susan Messer McBride – Chicago, IL
Will McComb – Oxford, MS
Eric Ordway – Columbia. MO
Lisa Orr – Austin, TX
Joel Pisowicz – Chesterton, IN
Megan Quinn – Rock Island, IL
Joyce St. Clair Voltz – Cedar Rapids, IA
Mike Stumbras – Riverside, MO
Meghan Sullivan – Appleton, WI
Will Van Dyke – Evanston, IL
Rimas VisGirda – Champaign, IL
Michael Ware – Milwaukee, WI
Mary Wilhelm – Normal, IL
Lisa York – Savanna, IL
Artwork by Jennifer Holt of Decatur, Illinois
Breathe (Version 3), Slip Cast & Assembled Porcelain , 2018