Simantel kindly set the final team brief of the semester for the second section of students. This time just two teams, but as equally a challenging assignment as the morning teams at OneFire.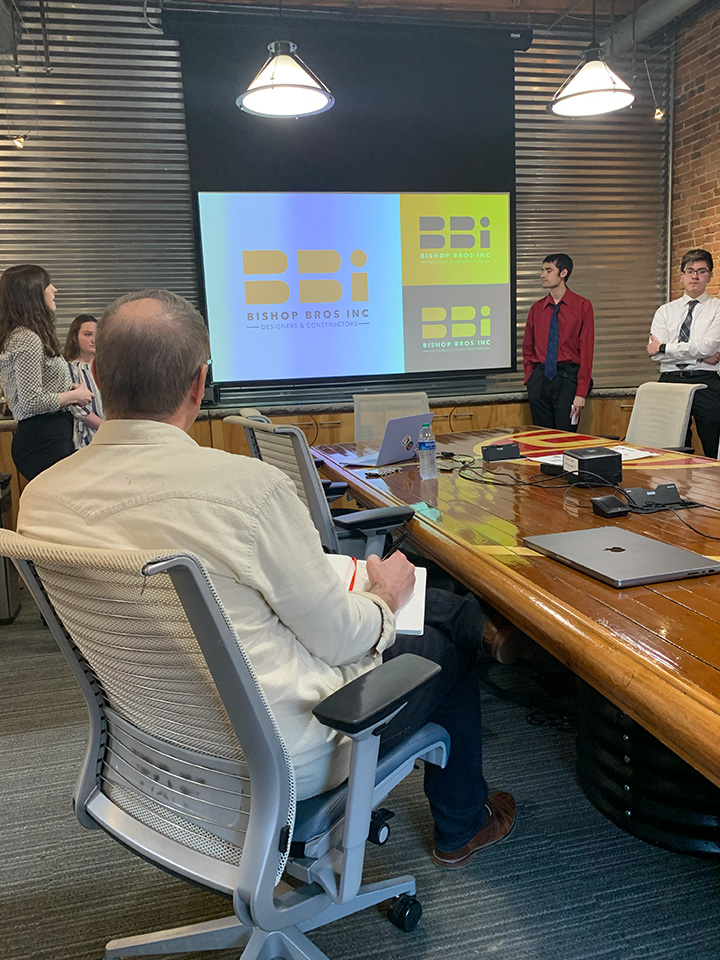 BUSINESS AND MARKETING GOALS
The new leaders wish to solidify the clients. brand reputation by carrying on their name and legacy.
They want to do this by deepening exiting relationships and growing new ones, ensuring they are clear on their marketing message, with appropriate materials to tell their story.
Ancillary Industry Targets: The client hopes the message Bradley helps create will translate to many audiences as they seek to continue to build relationships with area architects, industry associations and large general contractors where they might serve as a "sub contractor" (since they are smaller than most in our area.) The message may have to "pivot" so as not to seem competitive, but collaborative with various segments.
Channels:
The client does very little in the way of marketing.
All client names and addresses are stored; however, this is primarily used for invoice purposes not marketing purposes.
The company receives emails with notices for opportunities to bid on projects – but this very reactive.
The team does not sit on any community boards, nor are they involved in trade associations, though this is an area of interest to pursue further.
The team is specifically interested in finding a list of developers in the area to set meetings with and introduce themselves/tell their story.
The team does attend annual safety conferences/trainings, which serve as networking opportunities.
They do not currently have a website or much of a social presence and the Facebook page is rarely updated with project examples.
Tactics:
In the past, the team has discussed developing a letter "re-introducing" the firm to key customers or prospects.
They've considered building a PowerPoint presentation providing an overview of services and setting meetings to tell their story.
They do not have a brochure or any sales literature.
They do buy "custom branded" wine for customers at Christmas time as an appreciation effort.
They also have some promotional items (hats, sweatshirts, t-shirts, etc.)
The company cars also have the logo, which offers some limited exposure in market.
They've also considered building a portfolio of projects from small to large, with a case study of services.
And here are the two teams in action. Click on their photos to view their campaign presentations.