Finally decided it was time to let Christmas go and get on with 2012 (before it ends abruptly on December 21st…. not). I picked up all the equipment, odds and ends etc. I needed from my office at BU and headed down for my 'home' for the duration of my spring sabbatical – A residency at the Prairie Center of the Arts.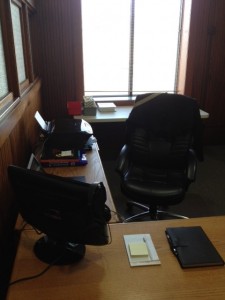 I have a few projects lined up, a mix of course updates and art pieces. Hopefully, I will remember to post about their progress (or about my procrastination) frequently. First up is to design a poster to promote my London course for J Term '13. It sounds a long way off, but the students need to pay a deposit around April time, so I need to market the trip pretty heavily in the next few weeks. In addition I want to do the initial research and image sourcing for my first art project – A series of relief prints titled 'Barfly' and (very) loosely based around the visual narrative of the Last Supper.
A third project sitting over the top of everything else is my trip to the Brazilian Amazon. The team meetings are getting more frequent now as the March date gets closer – very excited about it but I need to get more familiar with my Panasonic digital camera before then, so will use the Prairie Center and it's occupants as my 'model' to practice photographing!
So, day one of my sabbatical is pretty much over. Just focused on getting settled in my new surroundings. Looking forward to having the opportunity to (hopefully) make some art, sort out some much needed syllabus updating, and generally just 'chill' for a while.