The team brief this year was no biggie – just to re-brand the giant Swedish car company SAAB! Who have lost their way in recent years.
Each of the four teams had about three days (allowing for additional class and group activities), to come up with a strategic argument, a 'big idea' that would position SAAB back into the new car arena. This was not an exercise in working in Photoshop, or creating vectored images for end execution deliverables – this was very much more about coming up with a concept that would (re)connect the brand with it's audience(s) and ultimately develop loyalty.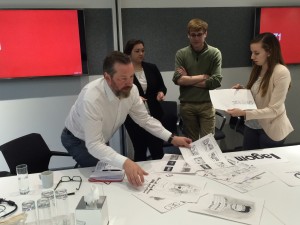 Team #3 'won' the account as their overall strategy was the strongest and best thought out, but well done to all four teams for some really strong work.
An enormous 'Thank You' goes out to my friend Ewan, who consistently finds the time to not only meet with my students, but always puts so much into making us feel welcome. Amazing guy 🙂