Last of the classroom sessions wrapped up – From here on in its all based around the team assignment. A majority of my students were heading out of town on a coach excursion tomorrow, and the remainder were staying close by. We weren't gathering again until Sunday afternoon for the big briefing!
Friday night was the night I took my colleagues to a pub of my choice – the previously mentioned Holly Bush on Hampstead Heath. A lovely little place to while away an evening (although being located where it is – the dinners can be a little expensive), good beer and wonderful company to celebrate the trouble free end to week one.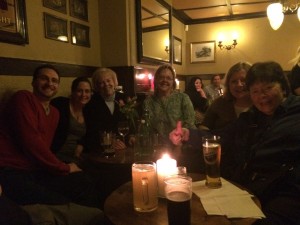 My free time on Saturday and Sunday morning involved two things – first of all I was meeting up with my former teaching colleagues and good friends, who were in town. A wonderful afternoon/evening followed waxing lyrical about everything! Then this morning (Sunday) I took a stroll to the London Transport Museum. Always fun, but it had the added attraction of another war related exhibition. All extremely interesting. My choice of attractions this trip has definitely taken on a WW One/Two angle!
Finally, time to brief the four student teams. A great (re)branding brief from my friend Ewan Ferrier, full of creative opportunities. Each team has around a day to research,  brainstorm and come up with a potential strategic direction and present those ideas to one of my other wonderful London branding contacts, Russ, who can hopefully then offer each team some welcome advice and art direction so that they can then develop their campaigns further, leading to Fridays presentations to the 'client'.