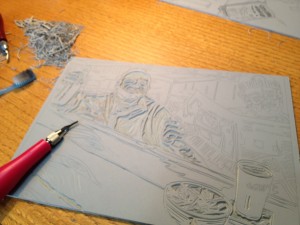 So here is the first (work in progress) 9″ x 12″ lino from a series of four studies of 'the barfly'. I didn't want to use specific individuals as the focus of attention in case they offended anyone. Instead I opted for fictional characters, but all loosely based on observations from a collection of people. The four prints are titled Wisdom, Knowledge, Humor and Ignorance – but their narration is actually interpreted as the old barfly, the one who thinks he knows everything (the one in the photo), the comedian and the one who invariably drinks his troubles away every night.
I figure it's going to take me a week to cut each of the four pieces. Then I can print them all together. What I wasn't prepared for was the neck ache while I'm gouging! I can just imagine coming back off this sabbatical with chronic neck pain!
More progress as it happens. G.