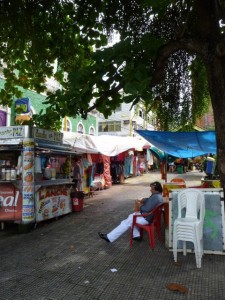 Stomach ache wearing off, I wrote my post while the team again had their devotions, then it was off to do a mix of sight seeing and last minute supply shopping.
First up was a really nice outdoor market full of Amazon related trinkets, jewelry, clothing etc. We spent an hour wandering around before the brief storm had us running for cover.
Next was something I was looking forward to ever since seeing Anthony Bourdain film a show from here – the fish market! Just an amazing mix of smells (mostly nasty), characters and noise.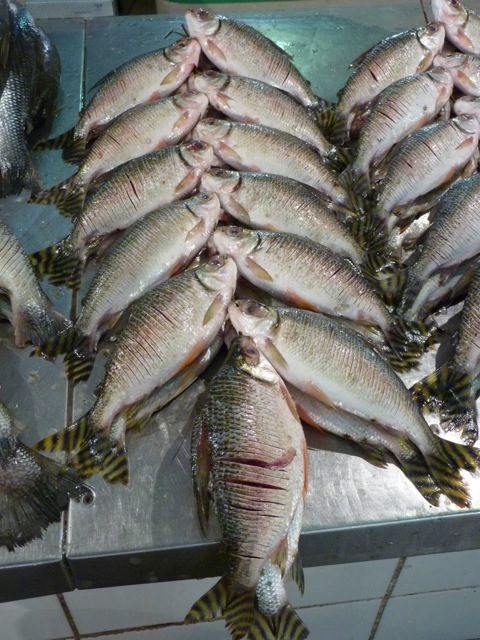 The meat and fruit markets followed with equally interesting sights and sounds. Then, after a well needed lunch and a rest in the park, we headed back into the shops for several purchases of flip flops (not me, got my trusty PF Flyers and Adidas Sambas!).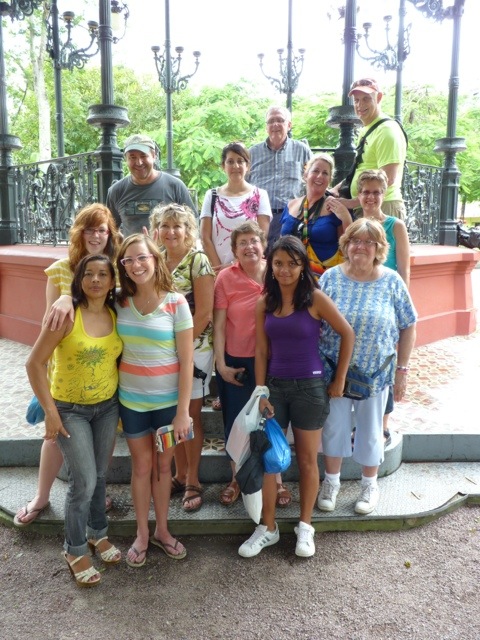 After a rest back at the hotel and an opportunity to do some packing, we met in the lobby and went to a Local church youth service. Although it went on a little longer than I think we anticipated, it was very vibrant, with plenty of live rock music between the preaching. Then the night was finished of with (for me anyway) sausage rolls and strawberry cake – granted, not particularly relatable to the indigenous community, but it tasted darned good before we step onto the boat and into the adventure of a lifetime.
So, as I will almost certainly be 'off the radar' for the next week – unless we arrive at the village and they're all geared up with XBoxes and Blackberries – I will be unable to get these posts out until we get back to Manaus (hopefully around Saturday night/Sunday morning). I will still write them each day, just can't upload them until the weekend. Wish us luck, and as they said in Apollo 13; "See you on the other side" 🙂
G.